Does it get any more Grandma's Kitchen than Oatmeal Raisin?
Our Oatmeal Raisin Cookie is an all time favorite recipe brought back into circulation due to requests. It will please the palate of even the most finicky cookie connoisseur.
Our small batch, hand-scooped cookies are available in our large 1.5 – 2 oz. size or our medium .75 – 1 oz. size. 
Large cookies are packaged by the pair and medium cookies are packaged by the 1/2 dz. Both sizes come in easy to store sealed bags.  
Only the highest quality ingredients are used in all diet styles.
Oatmeal Raisin Cookie Ingredients: oatmeal, butter, brown sugar, flour (wheat flour (niacin, iron, thiamin mononitrate, riboflavin, folic acid) malted barley flour), raisins, sugar, egg, vanilla, salt, baking soda, cinnamon
House made ingredients include pure vanilla extract
Local ingredients include farm fresh pasture raised non-gmo eggs
Looking to tweak this recipe? Customize It!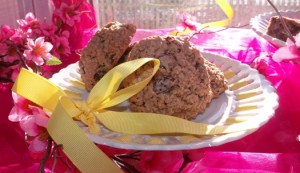 Want to make it extra special? Personalize It!