Grandma will be proud to receive this wholesome cookie!
Our Soft Chocolate Chip is a whole grain cookie with a soft, smooth texture and a wholesome just out of Grandma's oven flavor.
Our small batch, hand-scooped cookies are available in our large 1.5 – 2 oz. size or our medium .75 – 1 oz. size. 
Large cookies are packaged by the pair and medium cookies are packaged by the 1/2 dz. Both sizes come in easy to store sealed bags.  
Only the highest quality ingredients are used in all diet styles.
Soft Chocolate Chip Ingredients: chocolate (chocolate liquor, sugar, cocoa butter, sunflower lecithin, soy lecithin, vanilla extract), whole grain soft white wheat flour, sugar, butter(milk), egg, vanilla, baking soda, salt
House made ingredients include pure vanilla extract
Local ingredients include farm fresh pasture raised non-gmo eggs, chocolate
Looking to tweak this recipe? Customize It!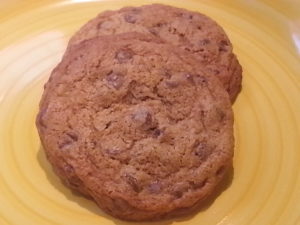 Want to make it extra special? Personalize It!