Every batch of our all natural homemade cookies is mixed and baked fresh to order. Always small batch, made with fresh local ingredients, hand scooped then baked and cooled in the shortest time possible so you can be assured that you're receiving the freshest product imaginable. Cookies are baked, wrapped in convenient to store 2 packs, boxed and shipped all in the same day.
Large Homemade Cookies weigh approximately 1.55 – 2 oz. each
Medium Homemade Cookies weigh approximately .75 – 1 oz. each
GF = gluten free, DF = Dairy Free, EF = Egg Free, LS = lower sugar, RSF = refined sugar free, V = vegan, WG = whole grain
Organic substitution is now available please contact us for details. Check out our ingredients for details.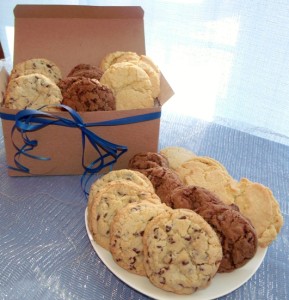 Click on cookie name for description or to place an order
 All products are manufactured in a kitchen that also produces items containing wheat, peanuts, tree nuts, soy, dairy, and egg