Brownie taste and texture + nuts….Yumminess Overload!
This Brownie Cookie delivers a melt in your mouth brownie flavor made with melted dark chocolate, semi-sweet chips, whole grain flour with the added goodness of fresh, crunchy walnuts.
Our small batch, hand-scooped cookies weigh approximately 1.65 – 2.25 oz. each.
Large cookies are packaged by the pair and come in easy to store sealed bags.  
Only the highest quality ingredients are used in all diet styles.
Brownie Cookie w/Walnuts Ingredients: chocolate(unsweetened chocolate, sugar, cocoa butter, vanilla, soy lecithin, milkfat), walnuts, semisweet chips(chocolate(sugar, unsweetened chocolate, cocoa butter, dextrose) sunflower lecithin), sugar, egg, butter(milk), whole grain soft white wheat flour, vanilla, baking powder, salt
House made ingredients include pure vanilla extract
Local ingredients include farm fresh pasture raised non-gmo eggs, chocolate
Looking to tweak this recipe? Customize It!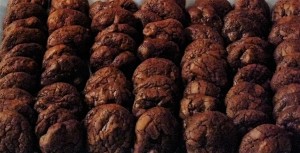 Melt in your mouth brownie flavor made with melted semi sweet chocolate chips,  whole grain flour, and the added goodness and crunch of fresh walnuts.