Coconut Shortbread Cookies SMASH the mold when it comes to gluten free and vegan cookies!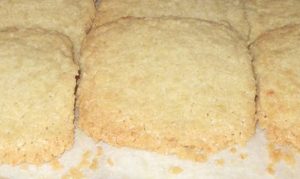 Do you LOVE coconut? Then our Coconut Shortbread Cookies are the perfect cookie for you. This sweet and crispy cookie is full of high quality unsweetened coconut, coconut oil, and the natural sweetness of pure maple syrup.
Our small batch, locally sourced cookies weigh approximately 2.25 oz. each.
Large cookies are packaged by the pair and come in easy to store sealed bags.
Only the highest quality ingredients are used in all diet styles.
Coconut Shortbread Cookies Ingredients: flour¹(garbanzo bean flour, potato starch, tapioca flour, white sorghum flour, fava bean flour), white sorghum flour¹, sugar, coconut oil³, coconut, made syrup, vanilla, salt
House-made ingredients include pure vanilla extract
Local ingredients include maple syrup
¹denotes certified gluten free ²denotes certified dairy free & soy free ³denotes certified organic
Looking to tweak this recipe? Customize It!
Want to make it extra special? Personalize It!