Our Fresh Baked Cookie Gifts make your customers and employees feel like family!
Choose flavors, occasion and include your personal message.
Cookies come in a stylish gift box with matching ribbon.
Cookie gifts contain 6 or 12 fresh baked cookies.
Our small batch, hand-scooped cookies weigh between 1.5 oz. – 2 oz. depending on the flavor.
Many diet styles to choose from including old-fashioned, gluten free and vegan. Check out our Cookie Page to get descriptions and ingredient information.
House made ingredients include vanilla extract, vanilla sugar, vanilla powder, apple sugar, banana sugar and lemon sugar.
Local ingredients include farm fresh eggs, honey, peanut butter, maple syrup and produce.
Don't see the cookie flavor you're looking for? Customize It!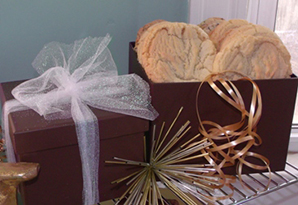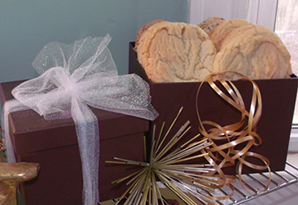 Want to make it extra special? Personalize It!