Pumpkin Oatmeal Cookies….it's like a taste of Fall!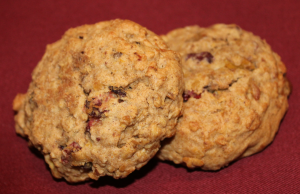 Fresh local pumpkin, dried cranberries, spices and walnuts make this cookie a favorite among those that love old fashioned chunky cookies.
Our small batch, locally sourced cookies weigh approximately 1.65 – 2.25 oz. each.
Large cookies are packaged by the pair and come in easy to store sealed bags.
Only the highest quality ingredients are used in all diet styles.
Pumpkin Oatmeal Cookie Ingredients: oatmeal, whole grain white wheat flour, pumpkin, butter(milk), walnuts, cranberries, brown sugar, sugar, egg, vanilla, pumpkin spice(cinnamon, cloves, ginger, allspice, nutmeg), cinnamon, cardamom, baking soda, salt,
House-made ingredients include pure vanilla extract
Local ingredients include farm fresh pasture raised non-gmo eggs, pumpkin
Looking to tweak this recipe? Customize It!
Want to make it extra special? Personalize It!