Quinoa Chocolate Chip Cookie … gluten free, vegan, soft and overflowing with flavor.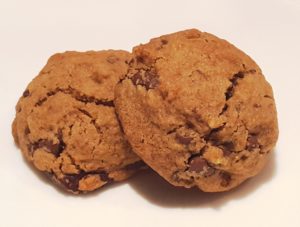 Our Quinoa Chocolate Chip Cookie starts with a Quinoa flour base and a combination of dark chocolate and semi sweet chips. Organic coconut oil, and flaxseed meal work together to make a cookie that is not only Vegan, but also intensely flavorful.
Our small batch, hand-scooped cookies weigh approximately 1.65 – 2.25 oz. each.
Large cookies are packaged by the pair and come in easy to store sealed bags.
Only the highest quality ingredients are used in all diet styles.
Quinoa Chocolate Chip Ingredients: quinoa flour¹³, brown sugar, dark chocolate¹²(unsweetened chocolate, cane sugar), semi-sweet chips¹²(cane sugar, chocolate liquor, non-dairy cocoa butter), organic coconut oil³, maple syrup, flaxseed meal¹, vanilla, salt, baking soda¹
House-made ingredients include pure vanilla extract
Local ingredients include maple syrup
¹denotes certified gluten free ²denotes certified dairy free & soy free ³denotes certified organic
Looking to tweak this recipe? Customize It!
Want to make it extra special? Personalize It!