Employees and Clients alike, who doesn't love fresh baked cookies?
Simplify your customary gift giving with our personalized automated gift services .
Show them how much you appreciate them by sending them fresh baked cookies for their next anniversary, birthday, or special achievement. Every batch is mixed fresh, baked, wrapped, and delivered or shipped the same day.
House-made ingredients include vanilla extract, vanilla sugar, vanilla powder, apple sugar, banana sugar and lemon sugar.
Local ingredients include farm fresh eggs, honey, peanut butter, maple syrup and produce.
Most items can be Customized to fit your needs.
Make it extra special by adding personalized labels or gift cards with your business colors and/or logo. Let's make it personal!
Client Relations

"Welcome" and "Thank You" Baskets
Project completion
Holiday, Birthday, or Anniversary Gifting

Employee Appreciation

Recognize an employee after an impressive job
Celebrate an anniversary or birthday

Pricing to fit your budget

All major credit cards accepted
Invoicing available with prior approval

Local Delivery available in MA and RI upon request
Nationwide shipping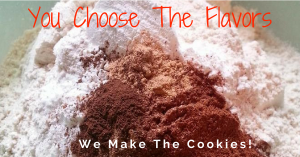 Let your inner artist fly free and create the most perfect personal fresh baked gift. Start by choosing your dough then add the fixings to make a creation all your own. All products are manufactured in a kitchen that also produces items containing wheat, peanuts, tree nuts, soy, dairy, and egg.

Click here to start creating your cookie

Click here to send a "Create Your Own Cookie" Gift Certificate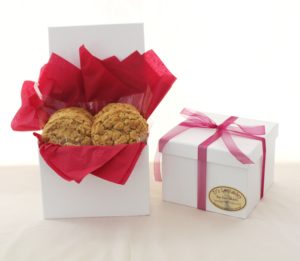 Each batch is made by hand with high quality flours and grains, real creamery butter, farm fresh eggs, and house-made pure vanilla extract.
Choose up to 2 flavors of our most popular fresh baked cookies packaged in a gift box and ribbon to match your gifting occasion.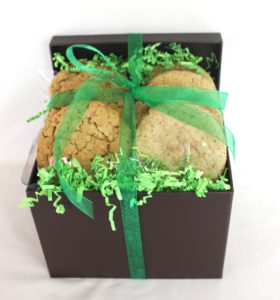 Assorted Cookie gift boxes contain 6, 12 or 18 fresh baked cookies in a minimum of 3 different flavors. Choose the diet style, occasion and include your personal message. Cookies come in a stylish gift box or basket with matching ribbon.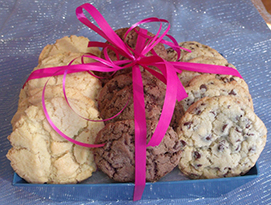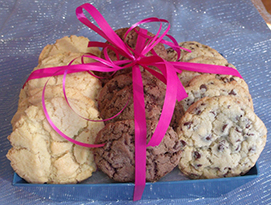 Build a more personal bond with your customers and employees with a Customized Cookie Assortment made especially for them.
You choose the 3 flavors, occasion and include your personal message. Cookies come in a stylish gift box or basket with matching ribbon.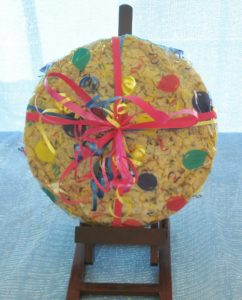 This fresh baked plate sized cookie never fails to make an impression. Choose either the 10″, 1 1/4 lb. Baby Big or the 14″, 2 1/2 lb. Big Mama. Available in a variety of flavors and wrapped in decorative cello with a ribbon to fit your gifting occasion.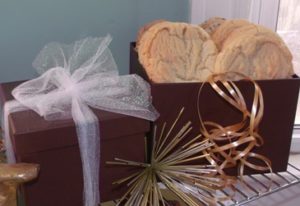 1 Dozen fresh baked cookies in a stylist gift box or basket delivered right to their front door each month.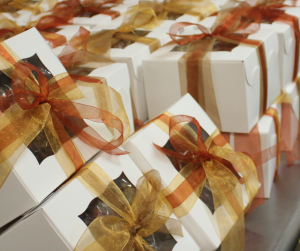 Bulk gifting made easy. Boxes available in many sizes and options to fit any budget.
Need to customize it? Let's make it personal
Customized Business Favors
In addition to holiday gift giving for clients and employees we also offer company favors for corporate events. These gift boxes are available in your choice of cookies. Most of all you can make them extra personal with your company colors and logo.

Need to customize it? Let's make it personal
Automated Gifting
Start simplifying your customary gift giving by visiting our Automated Gift Services page.
Questions?