Order your Sweetness Box today!
We offer a rotating weekly menu of cookies, coffee cake, brownies, and other baked items.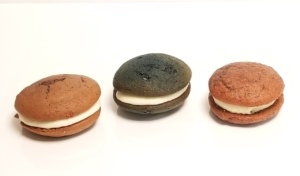 Springtime Whoopie Pie Assortment, Chocolate Chip Macadamia Coffee Cake, and Oatmeal Crispy Chews!
14th Year CELEBRATION Special Continues!
This week's special – 1 Dz. Chocolate Chip Originator!
Pick up is available in Seekonk
Tuesday 8 am – 3 pm
Wednesday 1 pm – 4 pm
Friday 8 am – 3 pm
Saturday 11 am – 1 pm
To request a special pick up time or delivery please contact Darlene at darlene@dslectables.com or 401-323-2657
All products are made small batch and baked fresh to order.
Our gluten-free products are made on dedicated gluten-free machinery and prepared in a separate area of the kitchen than our wheat based products.
House-made ingredients include almond butter, apple sugar, banana sugar, lemon sugar, vanilla extract, vanilla powder, vanilla sugar, walnut butter
Local ingredients include farm fresh eggs, honey, peanut butter, maple syrup and produce.