Gluten Free Cookies
All of our Gluten Free Cookies are made with naturally gluten free ingredients. Many of these ingredients are certified gluten free by the manufacturer. 
All of our gluten free products are made on dedicated gluten free machinery and prepared in a separate area of the kitchen than our wheat based products.
Every batch of our Gluten Free Cookies is mixed and baked fresh to order. Always small batch, made with fresh local ingredients, hand scooped then baked and cooled in the shortest time possible so you can be assured that you're receiving the freshest product imaginable. Cookies are baked, wrapped in convenient to store 2 packs, boxed and shipped all in the same day.
Large Homemade Cookies weigh approximately 1.5 – 2 oz. each
Medium Homemade Cookies weigh approximately .75 – 1 oz. each
House made ingredients include almond butter, apple sugar, banana sugar, lemon sugar, vanilla extract, vanilla powder, vanilla sugar, walnut butter
Local ingredients include farm fresh eggs, honey, peanut butter, maple syrup and produce.
Don't see the cookie flavors you're looking for or want to tweak a recipe?  Customize It!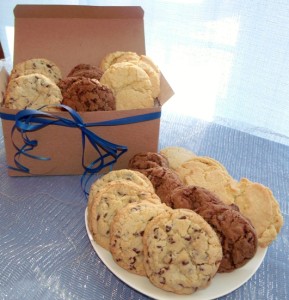 Want to make it extra special?  Personalize It!
GF = Gluten Free, DF = Dairy Free, EF = Egg Free, LS = Lower Sugar, RSF = Refined Sugar Free, V = Vegan, WG = Whole Grain
Click on cookie name for description or to place an order